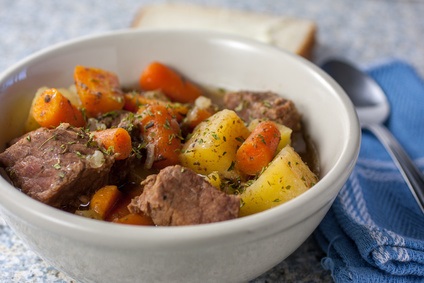 Finally, it's the most wonderful time of the year again! No, not Christmas; it's deer season! As the excitement sets in and you get your gear sorted out and your rifle sited in, let's take a minute to talk about making sure there is good eatin' at deer camp this year. After all, how many days in a row do you really want to eat cold cuts, especially after sitting in a wintry rain all day long?
There are many recipes for venison stew and a fair amount of them end up tasting like wallpaper paste with chunks of shoe leather. A lot of this comes down to poor technique and not building flavors. Below is a recipe that has been used in my family for generations. It wasn't until going to a buddy's deer camp that I realized how lucky I was. What I discovered is that most folks think it is okay to toss some cubed venison in a slow cooker with some 'taters and carrots and let it do its thing until you have stew. This is not how you make great venison stew, nor is it how you treat venison.
The Only Venison Recipe You Will Ever Need:
3 lbs. of venison stew meat, this is approximate
4 slices thick bacon or pancetta diced
3 medium carrots, evenly diced
2 ribs of celery, small moon cuts
2 smallish onions evenly dice (preferably Spanish or yellow)
3 cloves of garlic, minced
2 tbsp. of tomato paste
1 tbsp. of Worcestershire sauce
2 tbsp. of decent balsamic vinegar
½ bottle of dry red wine, such as Cabernet Sauvignon
1 bay leaf
1 tsp. of dried thyme
2 cups of beef broth
2 cups of water
1 lb. small potatoes peeled and cut into quarters
1 lb. peeled carrots cut into quarters.
Set your oven to 350. The first thing you need to know about making a great venison stew is how to properly treat the meat. Let fully defrosted venison come to room temperature for 15 minutes. This is called tempering and it allows the meat to cook more evenly. After tempering, cut the meat into stew sized chucks (two-inch pieces). Salt and pepper the meat. Heat a heavy Dutch oven over medium-high and add oil. When the oil is shimmering, add the meat in small batches. Do not overcrowd the pan; doing so will result in tough meat that is not browned. Brown the meat on all sides. Work in batches. Remember, you are building flavor here!
Remove the stew meat and set it aside. Add bacon or pancetta. Venison is lean, which is why you need to add fat, which is flavor, after all. When the bacon has rendered, turn down the heat and add your carrots, celery, and onion. Cook for approximately 10 minutes or until it starts to brown. Add the garlic and cook for additional two minutes. Do not let the garlic turn brown or it will become bitter.
Add tomato paste and stir for two minutes. Add Worcestershire and balsamic and cook for one minute, scraping up brown bits off of the bottom of the pan.
Add wine, bay, and thyme, and cook on a simmer until the wine reduces (approximately 10 minutes). Add meat, broth, water, and any meat juice from the platter. Cover the pot and put into the oven to braise for three hours. The meat should be covered by the cooking liquids.
When there is about 40 minutes of cook time left, add the remaining carrots and potatoes. This will prevent the wallpaper paste texture. Serve with a decent loaf of bread.
That's it! Sure, it's a little more involved than tossing meat and taters in the slow cooker, but it will pay dividends in taste. Please note, most likely adjustments will need to be made as we cook by sight and based on what worked the previous year! Enjoy!