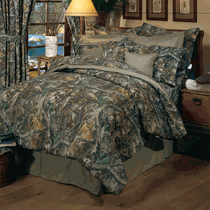 Whether you're a hunter or just married to one, you've probably got tons of camouflage clothing around the house. And let's face it; there's no greater print than camouflage! It's so great, in fact, that you don't have to just wear it anymore, you can incorporate it into the décor of any room in your house. Depending on the room you're decorating, you can find everything from comforters to lamp shades to tissue boxes and bath rugs in your favorite print.
When you're decorating your home in camo, you really want to have a good balance, and not have too little or too much. If you have too little camo in the room, the pieces can look strangely out of place, while too much and the look can be overwhelming—and not in a good way. Not to mention, you want to be able to find your significant other! To get just the right look, you need to think about the room itself and striking the perfect balance.
A Different Perspective for Different Rooms
Let's say you're decorating the bathroom; you can look at this room the same way you would any other color or print combination and how people traditionally decorate a bathroom with it. You can get a shower curtain, rugs, waste basket, and a tissue box and still be okay. Bathrooms are small enough that having that much camo won't be a problem. Think of how other bathrooms tie it all in with matching pieces and it's no different with camo.
On the other hand, if you're decorating a bedroom, you'll want to make sure to have the right amount. If you have a comforter in camo, it's best to have just a few other accents to pull it all together. Maybe a nice set of table lamps with camo lampshades and some curtains with camo accents on the edges? If you really want to go all in, you could even throw in a gun rack over the headboard to really give the feel of the great outdoors. Not to mention, what hunter wouldn't love sleeping next to his firearms? On the other hand, if you've got a solid color comforter you can do a little more with the camo print. For example, pillow cases and matching curtains would work as accent pieces, and you could even use lampshades and throw rugs as it wouldn't be too much.
If you're decorating a kitchen or living room, you can use the same rule of thumb as you did in the bedroom. One large item with camo means you only need a few smaller items to compliment it, while one large solid color item can be accompanied by more accents.
Don't Forget the Walls
If you're considering painting the room, take a piece of the décor with you to the paint store to get a perfect match of one of the colors in the print. While camo looks good everywhere, it looks especially well put together when it matches the wall color.
Once you've finished decorating, you'll want to get a true sense of how the room looks. To do this, simply invite two groups of friends over to your house at different times. First, the hunters: if they ooh and ahh you'll know you have an appreciative audience who understands your love of camo. On the other hand, if you invite your non-hunting friends over, you can always tell by their reaction. If they like it, you know you've done a good job. If they don't, you know they must be crazy anyway, because who doesn't hunt, right?
So even though you may be trying to strike the right balance, when you decorate with camo, you really can't go wrong. It's a fun print that reminds people of the great outdoors, and who doesn't like that? Just remember, not too much (yes, we know this can be hard…) and not too little, and you'll have the perfect camo decorated room for your home away from hunting!
For all your camo home decor needs, shop Camo Trading today.