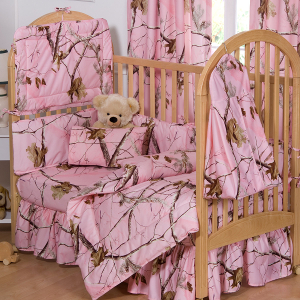 Whether you're expressing your love for all things outdoorsy, celebrating a tradition of military service, or you're excited about welcoming a next generation hunter, creating a camouflage nursery is the perfect project for your little one's arrival. We've put together everything you need to know about getting your baby's room decked out in camo gear.
Camo works great for a nursery, whether you're expecting a boy or a girl, and even if you're planning to wait to find out when your bundle of joy arrives. Traditional green camo works wonderfully for either boys and girls alike, and there are also precious pastel blue, pink, and even purple camouflage patterns out there. No matter what your color scheme, you can find camo to match. From traditional gender-based colors to more neutral tones, there are plenty of camo options.
You can also use as much or as little camouflage as you like. A rustic styled crib and a camo blanket can be a subtle look. On the other hand, you can go all out and spring for a camouflage crib set, lamp, switch plate covers, and wallpaper or nursery border. From rocking chairs to changing tables, you can camo just about anything you can imagine.
You'll have no trouble finding camouflage baby gear. Online marketplaces like Amazon, Overstock.com, and Etsy have a wide range of both commercial and handmade camo items, and retailers like Camo Trading Company have plenty of camo baby bedding supplies, as well.
For those of you who want a more subtle camo theme, accent pieces can be the perfect choice, as you can expand your décor to include other outdoorsy elements. You can choose bedding and curtains with bears, fish, or birds, and simply use camo on a lamp shade, a stuffed animal, or even on letters that spell out your baby's name.
Accent pieces are great for DIY-ers too. Whether you sew, paint, knit, or cross stitch, you can find ways to express your creativity and incorporate camo into your child's nursery. Think about cute outdoorsy sayings suitable for framing to inspire your little outdoorsy one. Handmade baby gear also makes a great gift for expectant moms and dads.
Finally, you'll discover a wide range of camouflage patterns available, from the traditional Realtree and Mossy Oak patterns worn by hunters, to more military-themed camo, complete with stars. Whether you're planning on raising an Army Ranger or a hunting and fishing buddy, your little one's nursery is the perfect place to express your love for camouflage.
Just be careful. If you dress your little ones in camo, too, they might blend in!